UHC Short Term Health Insurance
Underwritten by Golden Rule Insurance Co
UHC is a respected name in the healthcare industry. As such, they offer competitive Vision coverage for Indiana residents.
Our Rating: ★★★★☆
Keep an eye on your vision health with UHC vision insurance.
Our vision insurance plans offer you choice and flexibility, plus no waiting periods. You choose the coverage you need – glasses or contacts (Plan A) or both glasses and contacts (Plan B).
Our provider network offers quality care from professionals in private and retail settings across the country.
You have the flexibility to use non-network providers. But the best coverage is offered through our vision network. For example, a comprehensive eye exam from a network provider costs you $10. At a non-network provider, we pay up to $50 and you pay the rest of the billed charges.
Simply make a commitment to continue the coverage for at least 12 months (not applicable in all states).
The Best Value: Using network vision providers
Find a vision provider at myuhcvision.com. Your out-of-pocket expenses – what you'll owe for vision services – will vary depending on the type of provider you use. Our online list of network providers are categorized in three ways:
• Full service – contracted to provide eye exams and prescription eyewear at discounted rates. • Exam Only – contracted to provide exams ONLY at discounted rates.
• Dispense Only – contracted to dispense prescription eyewear ONLY at discounted rates.
Using a network vision provider: you pay the copay for eye exams and eyeglass lenses. For frames, you pay any amount over our allowance. There is no copay for contact lenses in the "select" group. Note: When using Walmart, Sam's Club, and Costco for contacts, the select contact lenses list does not apply. You pay any charge above the non-select group allowance.
Using a non-network vision provider: you pay any charge above our allowance.

Learn More:
Contact: (312) 726-6565
Pricing
Plan A monthly premium rates: $10.40 for primary insured, additional $6.60 per month for each dependent.
Plan B monthly premium rates: $14.30 for primary insured, additional $9.00 per month for each dependent.
Plan Designs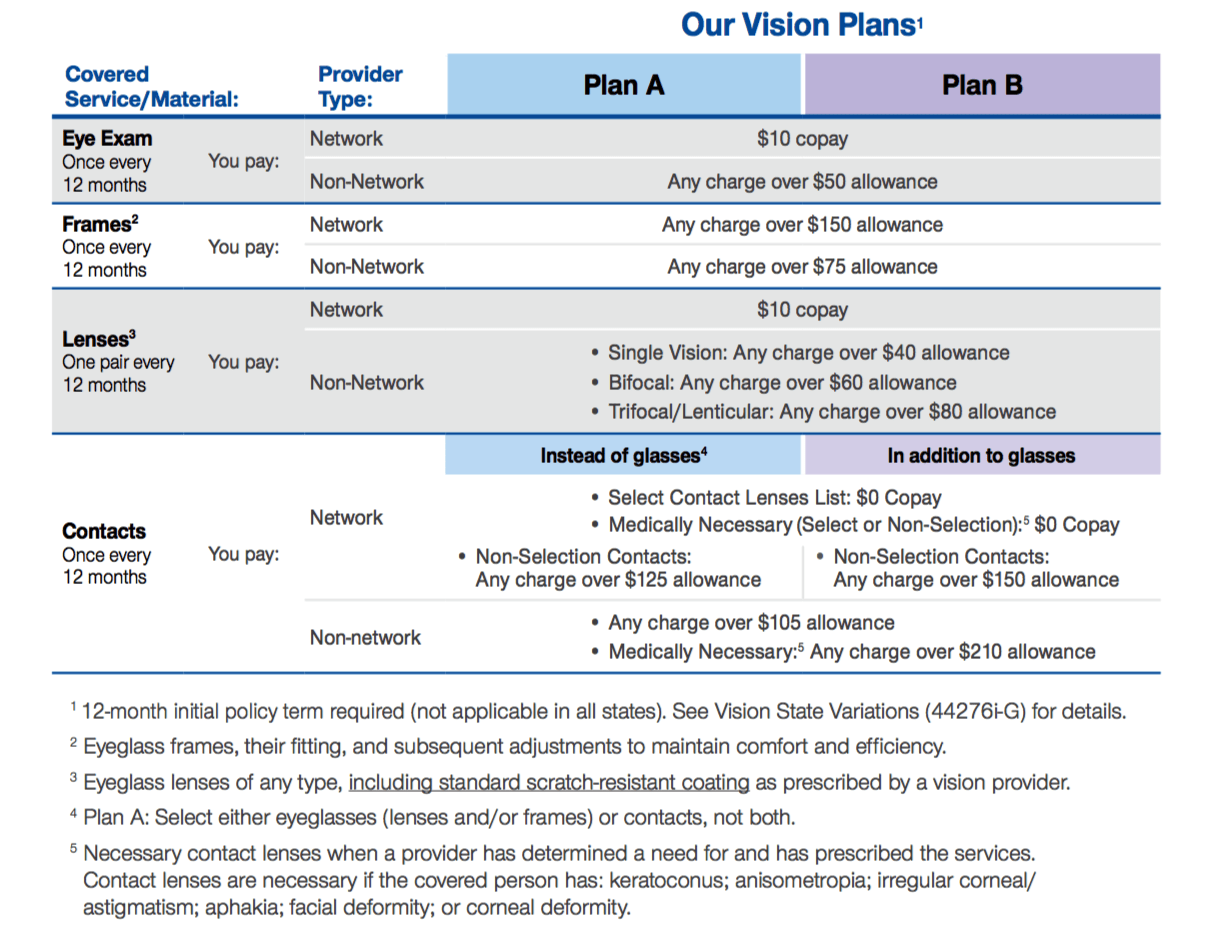 Additional Details
This is only a general outline of the coverage provisions and exclusions. It is not an insurance contract, nor part of the insurance policy. You will find complete coverage details in the policy.
12-Month Policy Premium Term Commitment
These plans require that you agree to pay all the premiums for the initial 12 months of coverage from the effective date. See Vision State Variations (44276i-G) for details about which states do not have this requirement.
Termination
For states requiring the 12-month premium term commitment, the policy may only terminate prior to the end of the 12-month term, on the date: (a) You enter full-time US military service; or (b) Of your death, if your spouse is not covered under the plan.
After you have paid all the premiums for the initial 12 months of coverage from the effective date or for all states that do not require a 12-month commitment, the policy will terminate the earliest of: (a) Nonpayment of premiums when due, subject to the Grace Period Provision in the policy; (b) The date we receive a request from you to terminate the policy or any later date stated in your request; (c) the date we decline to renew all policies issued on this form, with the same type and level of benefits, to the residents of the state where you live; (d) The date there is fraud or material misrepresentation by or with the knowledge of a covered person in filing a claim for benefits under the policy; or (e) The date of your death, if your spouse is not covered under the plan.
We will refund any premium received and not earned due to policy termination.
Premium
Premiums are subject to change. You will be given at least a 31-day notice (or longer if required by your state) of any change in your premium. We will make no change in your premium solely because of claims made by a covered person under the policy or a change in a covered person's health.
Dependents
Eligible dependent means your spouse and/or an eligible child. Eligible child must be unmarried child and less than 26 years of age.
General Exclusions and Limitations
Please Note: This vision benefit program is designed to cover vision needs rather than cosmetic extras. If you select a cosmetic extra, the plan will pay the costs of the allowed lenses and you will be responsible for the additional cost of the cosmetic extra.
No benefits are payable for vision expenses:
• That are not identified and included as covered expenses under the policy. You are responsible for payment of services not covered by the policy.
• That are part of a covered expense that is subject to a copayment or your responsibility after we pay our coinsurance percentage.
• Not rendered or not within the scope of the vision provider's license.
• For which a covered person may be compensated under Workers' Compensation Law, or other similar employer liability law.
• For orthoptics or vision therapy training and any associated supplemental testing.
• For replacement of an eyeglass frame and eyeglass lenses furnished under this plan which are lost or broken except at the normal intervals when services are otherwise available.
• For medical or surgical treatment of the eyes.
• For missed appointment charges.
• For applicable sales tax charge on vision care services.
• For corrective surgical procedures such as, but not limited to, Radial Keratotomy (RK) and Photo-Refractive Keratectomy (PRK).
• For any eye examination or any corrective eyewear, required by an employer as a condition of employment.
• For corrective vision treatment of an experimental or investigative nature.
• For eyewear, except prescription eyewear; non-prescription items (e.g. plano lenses); or optional lens extras.
No benefits are payable for vision services:
Provided without cost to a covered person in the absence of insurance covering the charge.
That exceed the frequency limitations or exceed any applicable benefit allowance in the policy.
Performed by a vision provider who is a member of the covered person's immediate family.
Provided prior to the effective date or after the termination date of the policy.